Covid: Why are 12-15s now being double-jabbed?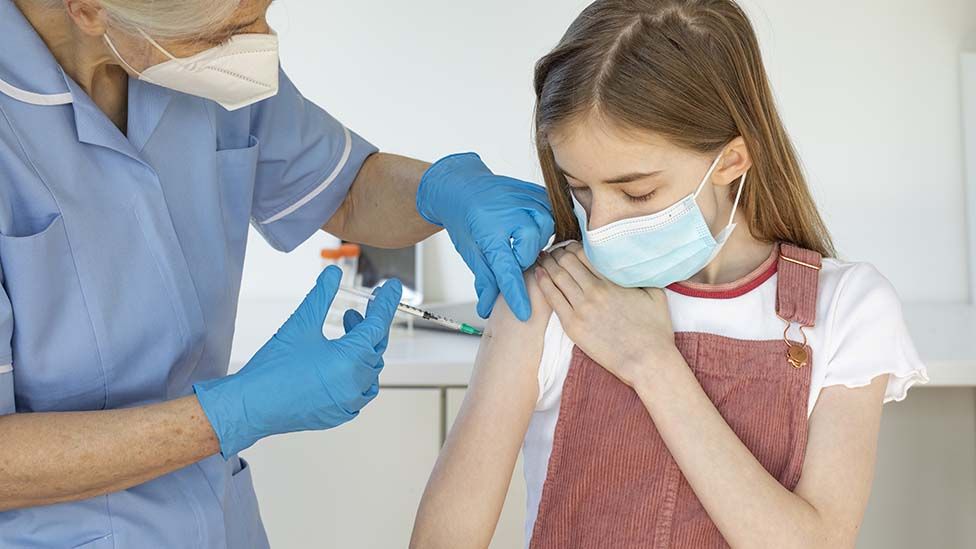 Children aged 12 to 15 are to be offered a second dose of the Covid vaccine.
It's in response to concerns about the newly identified Omicron variant.
What's the latest announcement?
The Joint Committee on Vaccination and Immunisation (JCVI) – which advises the UK governments on vaccines – has said that 12 to 15-year-olds should be offered a second jab – to be given at least 12 weeks after the first.
It's one of of a number of measures the JCVI say should be carried out, in case the Omicron variant spreads more easily or is more severe than current types of Covid.
Children aged 16 and 17 are already being offered a second dose.
England and Scotland have already said they will act on the JCVI's advice, and it is likely to be accepted in Wales and Northern Ireland.
Is the vaccine compulsory?
He said young people and their parents needed to be supported, and there should be no stigma attached to their choice.
A four-week gap applies to children who are deemed at higher risk because of underlying health conditions, or because they live with vulnerable adults.
Do parents have to give permission?
Although parental consent is being sought, children under 16 who can prove they understand the risks and benefits can ask for the vaccine – or refuse it – if they disagree with their parents.
This important legal test of whether a child can consent to treatment is known as "Gillick competence". It is named after a famous dispute in which a teenager wanted contraceptive advice without her mother's consent.
In practice, it would be extremely unusual for a child under 13 to be judged Gillick-competent.
Teenagers aged 16 and 17 don't need parental permission, unless there are exceptional circumstances.
How do you get vaccinated?
In Scotland, 12 to 15-year-olds are being invited to make an appointment or get vaccinated at drop-in centres. Over-16s can register for their first or second vaccine online, or by calling 0800 030 8013, or can go to drop-in vaccination clinics
In England, 12 to 15-year-olds can have their jab at school, or book an appointment at a vaccination centre, some of which also offer a drop-in service. Over-16s can book their first or second jabs online, by calling 119, or can visit a walk-in clinic
In Wales, vaccination centres are also being used for teenagers
In Northern Ireland, jabs for 12 to 15-year-olds are expected to roll out through schools during November. Older teenagers can book online, call 0300 200 7813, or go to walk-in centres
What vaccine is used and will younger children be jabbed?
There is no vaccine currently approved for under-12s in the UK.
Is the Covid vaccine safe for children?
The MHRA – which regulates medicines in the UK – said today that despite initial concerns about side-effects in under-18s, monitoring and a "thorough review" had found the jab to be safe, with "no new safety issues".
How many children have died from Covid?
Almost all children and young people are at very low risk from Covid-19.
Data for England suggests about 25 children died from Covid in the first 12 months of the pandemic.
The majority of them also had severe health problems, including complex neurodisabilities.
Only six had no recorded health conditions.
How does the UK compare with other countries?
Correction 21 September 2021: An earlier version of this article wrongly implied that the Gillick competence test was named after a case involving a mother and daughter and this line has been amended.