'I Crave The Most Decadent Stuff'
Comedian Kathy Griffin is sharing her 'happy meal' with her social media followers now that she says she's cancer free from stage 1 lung cancer.
On Instagram she wrote, "I couldn't sleep last night because I kept thinking about these #glutenfree homemade waffles that the husband makes. So this morning he made them. (And turkey bacon OTS)."
Her post included a picture of a waffle smothered in syrup and butter. Not pictured was the turkey bacon she wrote was on the side.
Griffin has been open about her lung cancer diagnosis, first confirmed in August of 2021, with Griffin revealing she was a non-smoker."
Her Instagram post at the time said, "I've got to tell you guys something. I have cancer. Yes, I have lung cancer even though I've never smoked!"
Months later, in November 2021, Griffin announced she was cancer free after having half of one of her lungs removed.
"I don't know why, I had a tumor, right? And I've never smoked, and it was in there for 10 years," she wrote.
Griffin went on to say that her cancer was contained to her left lung, and her doctors were "very optimistic."
I'm gonna be fine," she wrote.
Understanding Lung Cancer
Lung cancer, the second most common type of cancer, is the leading cause of cancer deaths for men and women in the United States. Diagnosis and treatment of the disease can be tricky since symptoms often don't appear until the cancer has spread.
An initial symptom, for example, could be as serious as a seizure if the lung cancer has already spread to the brain. But other symptoms can include increased coughing, chest pain, unexplained weight loss, shortness of breath, wheezing, losing your voice or persistent infections like bronchitis or pneumonia.
The two main types of lung cancer are non-small cell, which makes up 85 percent of cases, and small-cell. These types act differently and, accordingly, require different types of treatment.
Dr. Patrick Forde, a thoracic oncologist at Johns Hopkins Medicine, tells SurvivorNet about how distinguishing between the two types – and their subtypes – can be very beneficial.
What Happens When You've Been Newly Diagnosed With Lung Cancer
Griffin has faced a variety of issues since her cancer surgery including vocal hoarseness, swallowing issues, and stomach problems.
She has credited her husband Bick, a marketing executive, for his gluten free meals that she says has helped her regain an appetite.
"On days when I actually have an appetite, I crave the most decadent stuff," Griffin wrote in her latest Instagram post. "Hey #cancer people, what do you eat when you're having a good day?"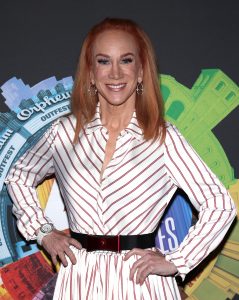 Fighting Cancer With Proper Diet
An important question for patients with any cancer is the role of diet and exercise in cancer risk. On the question of diet, studies of human populations "have not yet shown definitively that any dietary component causes or protects against cancer."
Major Reduction in Cancer Risk by Following Old Standbys Diet and Exercise
Unintended weight loss, however, gives a sense of how much of a toll the body is taking from the cancer. Digestive issues like the ones experienced by Griffin might come with a set of unwanted results, like weight changes.
When a patient first visits the oncologist with unintended weight loss, it can be a sign that the cancer is having a large negative effect on the body. Thus, maintaining weight throughout treatment, although a challenge, is important. Dr. Sagar Lonial, Chief Medical Officer at Winship Cancer Institute of Emory University, says exercise is important: "What I tell patients is the stronger and fitter you are going into treatment, the stronger and fitter you're gonna come out on the back end."
Griffin has also expressed fears that her voice may never go back to normal, after her vocal cords were damaged during her lung cancer battle.
Following her surgery, Griffin said she was left with a high-pitched voice, which she described as "Minnie Mouse meets Marilyn Monroe."
Learn more about SurvivorNet's rigorous medical review process.
---